The dose pen works the way its design to – these sleek looking pens uses "superior vaporization elements" designed to heat their formulas to a "precise temperature". Consistent dosage is guaranteed through three key features: optimized temperature control, airflow control and time control. They claim that in this way, their formulas deliver help quickly and accurately. It contains no additions or fillers.

I tried three formulas of the dosist vape pen – sleep, relief and bliss. Of all three, I find that the sleep was the most effective of them all – meaning, I was able to feel the effects after two to three hits. Bliss was ok and I found relief to be the least effective.

How it works is that when you inhale, the vaporizer will shut off automatically after 3 seconds. You will feel a slight vibration which will inform you when you've received the precise amount of 2.25 MG of your chosen formula. They recommend 1 dose/hour if you are a new cannabis user, 2 doses/hour if you are a moderate cannabis user, and 3 doses/hour if you are a experienced cannabis user. I don't consider myself a heavy user even though I smoke pretty much every day – I'm a bit of lightweight too so I always microdose – but with these pens I find that I need to do double the recommended dose to feel any effect at all. And with the $50 price tag for 50 doses, that's comes out to be $1 per puff…. so if you make your calculations, you can see how this product can get really expensive very quickly especially with the relief and bliss formulas, which I found to be very weak.
It is worth to note the ratio of THC-to-CBD ratio in each formulas so you can get a better grasp on what each pen claims to do.
The relief pen is a CBD rich formula which has a balance of 2:1 THC-to-CBD ratio that is meant to relieve "mild to moderate pain". I wasn't feeling any sort of pain so I asked my dad to try it out since he was having some neck pain at the time. I'd say he's a moderate user – a stoner in his youth and an occasional smoker – and i wanted to see if the pen would work for him. Unfortunately, it didn't. After taking two doses as recommended, he still felt the pain in his neck. I asked if he could do another hit but he honestly didn't seem too thrilled about it either so he didn't want to smoke it again. His thoughts were that the pen was "gimmicky" and "expensive".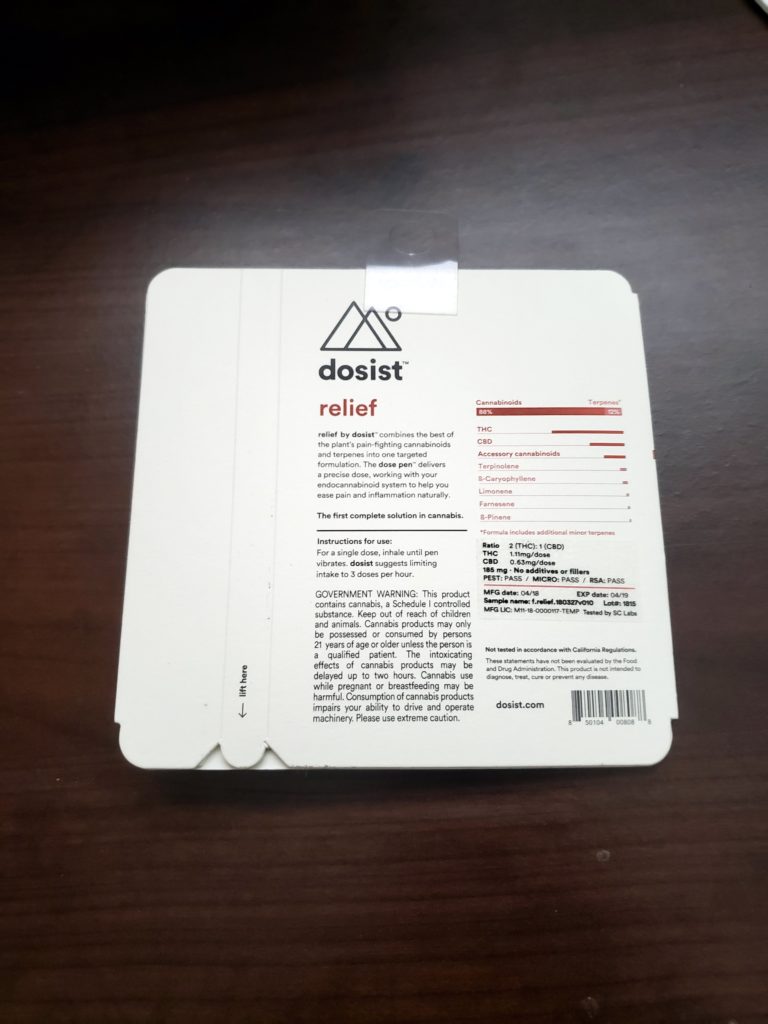 On another event, I took this pen when I went on vacation to Florida. Meh! My thoughts are the same – I'd say pass on this. Even if you were looking for some relief with pain, there's really no point in buying this pen considering there are so many other alternatives out there. First of all, it's expensive for what you get at 2.25 MG "PER DOSE". You can take CBD pills that has 25mg of CBD PER CAPSULE. If you need relief for pain, I suggest taking a CBD tincture or CBD capsule instead which will provide you with a much higher dosage needed for pain relief. Not all CBD products are made the same so please do your research before buying CBD online.

Moving on to the bliss pen. Just as the name suggests, the bliss pen is designed to help you feel just the right amount of happiness – a sense of euphoria, if you will. Other words for bliss are happiness, joy and delight. This pen has a balance of of 9:1 THC:CBD ratio complemented by uplifting terpenes.

Here are my thoughts on the bliss pen…

I like the idea of knowing the exact dosage every time I smoke – how I wish that the formula was stronger though! As I mentioned earlier, I'm a bit of a lightweight and it doesn't take a lot for me to get high. Two puffs of a joint or a bowl and I'm already feeling good. With this pen, however, I need to take five or six "doses" to feel any effect at all (that's $6 in vapor clouds). After the sixth dose, I finally start to feel what I call "a light sense of bliss". If that's even a thing. Actually, it was more like a barely-there feeling – like you feel it, but not really. You know what I mean? It's hard to explain. But basically, it's not the same high you'd get from a normal vape cartridge where the feeling is immediate after one or two puff – no, this is a more of a subtle high that you will feel after the fifth or sixth puff. So yeah, if you like feeling high but not really high, then you might like this one. For me, though, if I was smoking to get high, I'd want something strong that will get the job done after one or two puffs. This just doesn't do it for me. If anything, I was left feeling more frustrated and disappointed that I wasn't feeling it, so I just keep taking more and more dosage. And when I start to feel it, it goes away after an hour or two then I'd have to smoke another 3-4 doses to get that feeling back. I estimate that I probably took a total of 20-25 doses throughout the day of smoking this pen. That's $25 in one day, ya'll. You will finish this pen in two days, three days max.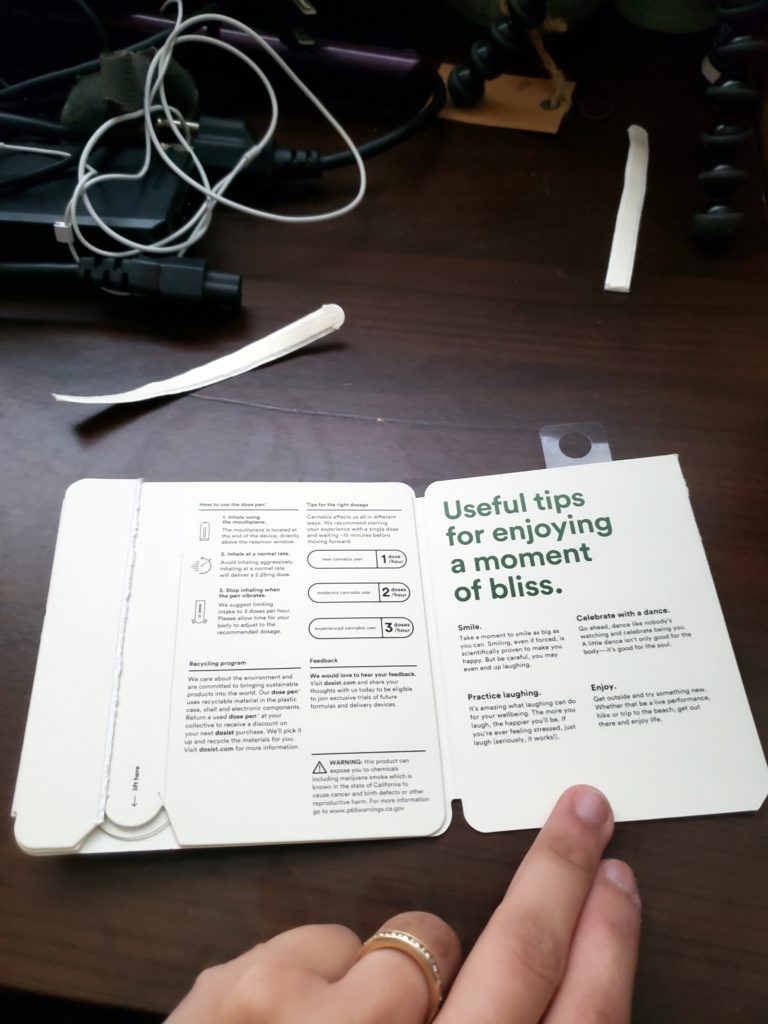 Now onto the sleep pen. This formula has a ratio of 8:1 THC-to-CBD and is "supported by a sleep-promoting terpene blend that works to help calm and relax your body and mind to ensure you have a restful night's sleep." From my experience, I found this statement to be true. When I can't sleep, I take two to three doses of this pen and find that it helps to relax my body and mind. Nothing special here though since you can get the same effect by straight up smoking an indica, but I appreciate the convenience and that it actually does what it claims to do.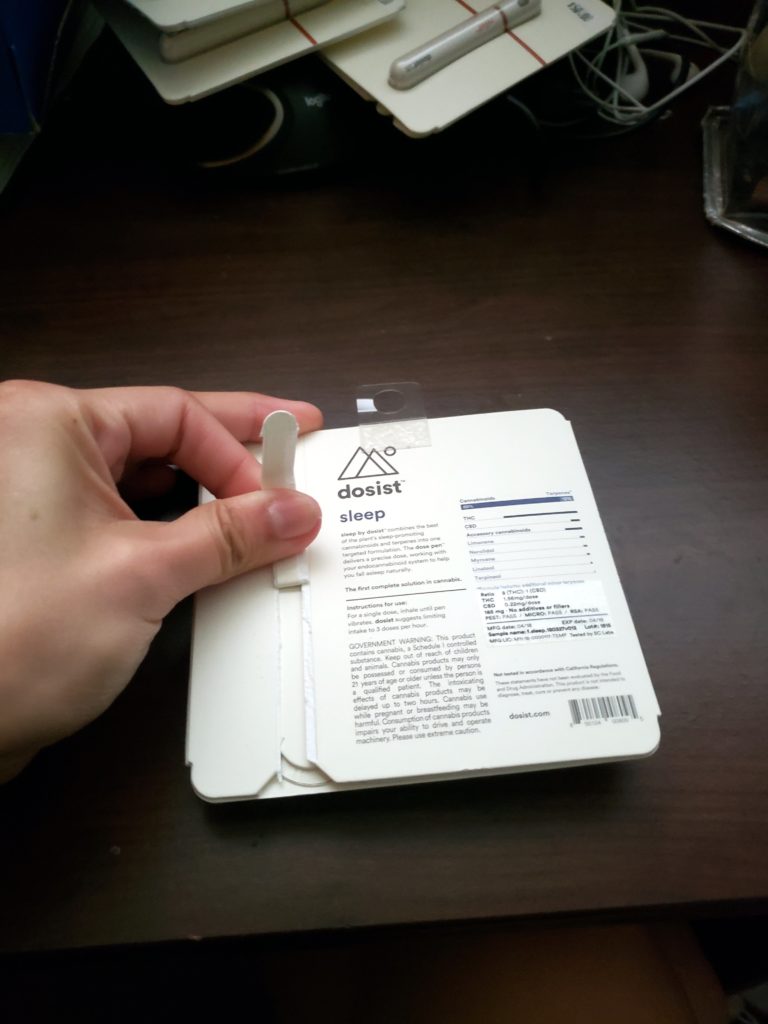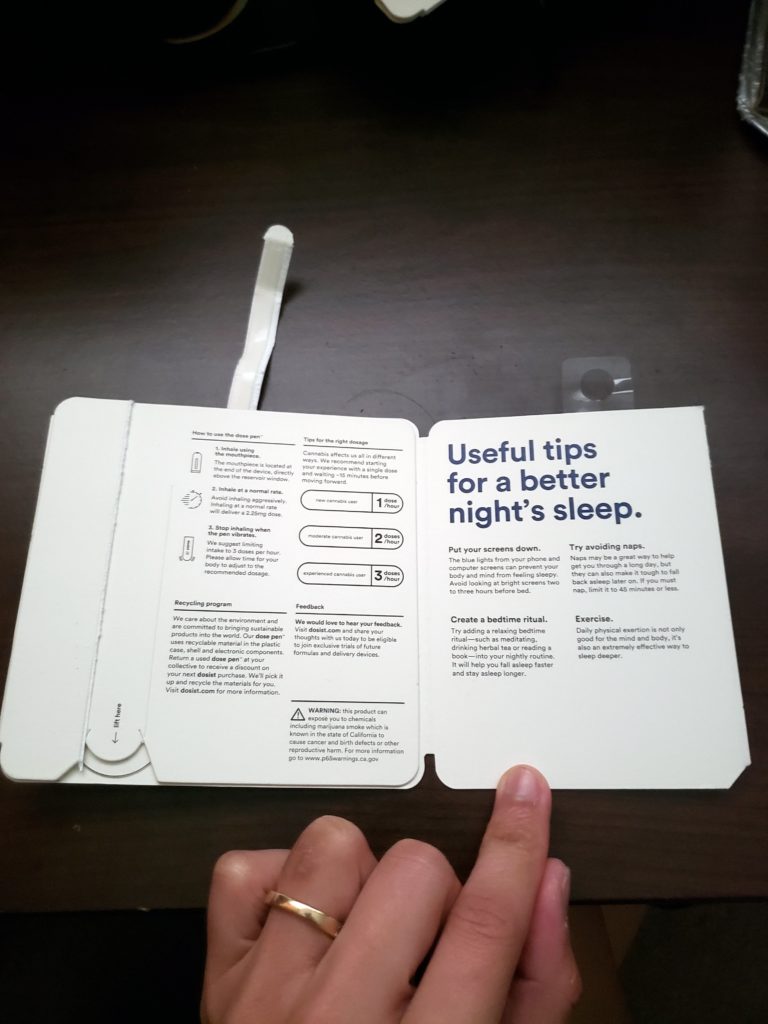 One thing good about these pens is how convenient and discreet it is. It literally is the size of a chapstick and it doesn't look like your typical vape pen – it looks very high end and it's really easy to use. With that said, there's lots of products in the market that offer the same and with better (and stronger) formulas that will last you quite a long time because you don't need to take so many hits. Also note that once you are finished with the formula, you can't use the pen anymore. You can't refill the pen or buy a new cartridge or anything like that, instead "you can return your dose pen to your dispensary and place in their recycling bins to receive $5 towards your next dose pen purchase."

Final Verdict:
I think the technology is brilliant – a precise dose each time you smoke! Also, the packaging is beautiful and its super convenient! The pen is the size of a chapstick so it's super easy to carry in your purse or pocket. Nonetheless, I'd say pass on this if you are a moderate to heavy user because you will be utterly disappointed that you spent so much on a product that won't satisfy you. I think this will be a good product for stay-at-home moms, for example or working mothers or even the working woman (or man) that don't really smoke but needs a little "something". Not only is it discreet and convenient, but it also looks sleek and stylish. Nobody will know its a vape pen.